This bestselling bundle includes:
Kindling Cracker King
High-quality German made sledge hammer with hickory handle
A box of our very popular natural firelighters
The Kindling Cracker™ KING is almost twice as big as the Kindling Cracker Original. You can split firewood that is both longer and wider. Perfect for your wood burning stove and fireplace. Kindling Cracker is a firewood splitter anyone can use, both young and old.
Hundreds of thousands have been sold worldwide. The Kindling Cracker has become the new go-to tool for splitting firewood.
A safe and effective way to split kindling and firewood without a dangerous axe.
This is the original and patented wood-splitter. Crafted in an Australia foundry from high quality cast iron.
5 year warranty.
Easy to use and virtually maintenance free.
Kindling Cracker King takes firewood up to 23 cm in diameter.
Size: 27.5 x 27.5 x 43 cm
Safety ring inside diameter: 22 cm
Weight: 9.5kg

"MAKES SPLITTING FIREWOOD A BREEZE"
★★★★★
200,000+ USERS IN EUROPE
Check out what some of them are saying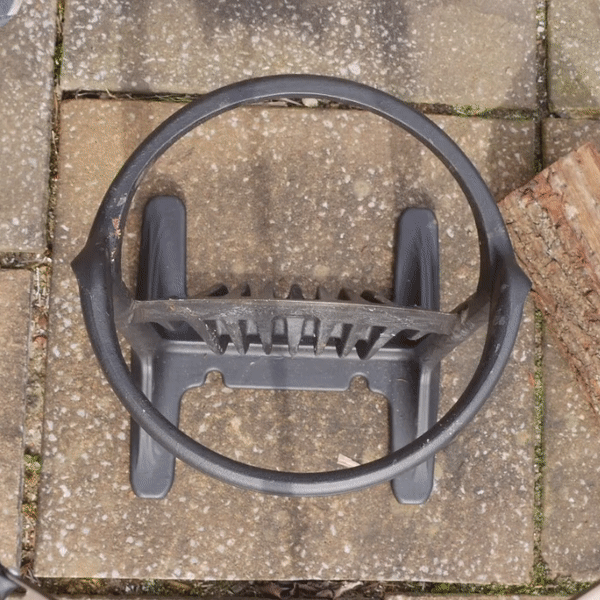 HOW DOES IT WORK?
1. Place a log inside the ring.
2. Give it a gentle tap to fix the log to the blade.
3. Remove your hand and strike the log.
🪵 Voilà! Fire ready wood.
The new standard
Do you want to heat your home, cook outdoors or enjoy time around a fire? The Kindling Cracker makes splitting wood a breeze. With thousands of happy users, the Kindling Cracker has become a must-have tool. You'll wonder how you ever got by without it!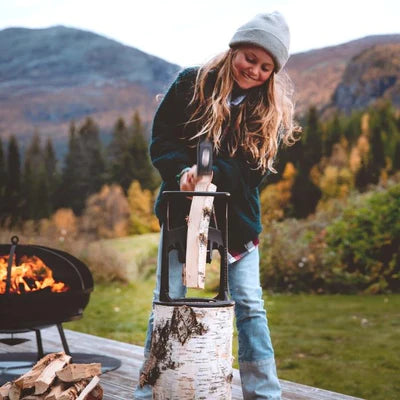 Peace Of Mind
Enjoy the process, rather than worrying about it.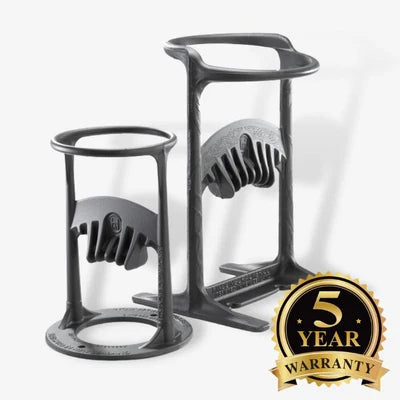 5 YEAR WARRANTY
5 year warranty and 90 day free returns. ❤️
User Friendly
Using the Kindling Cracker is so easy anyone can do it, both young and old.
Eco-friendly production 🌱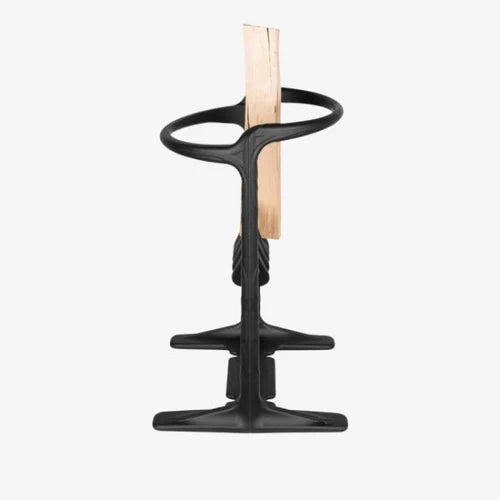 Made from top-grade, recycled cast iron and manufactured in a foundry in Australia.
The packaging is eco-friendly using only plant-based print materials.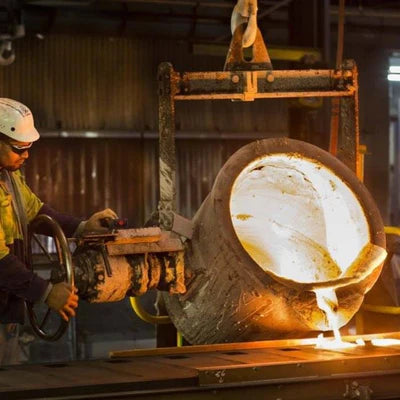 The foundry uses over 60% renewable energy with a target to use 100% by 2030.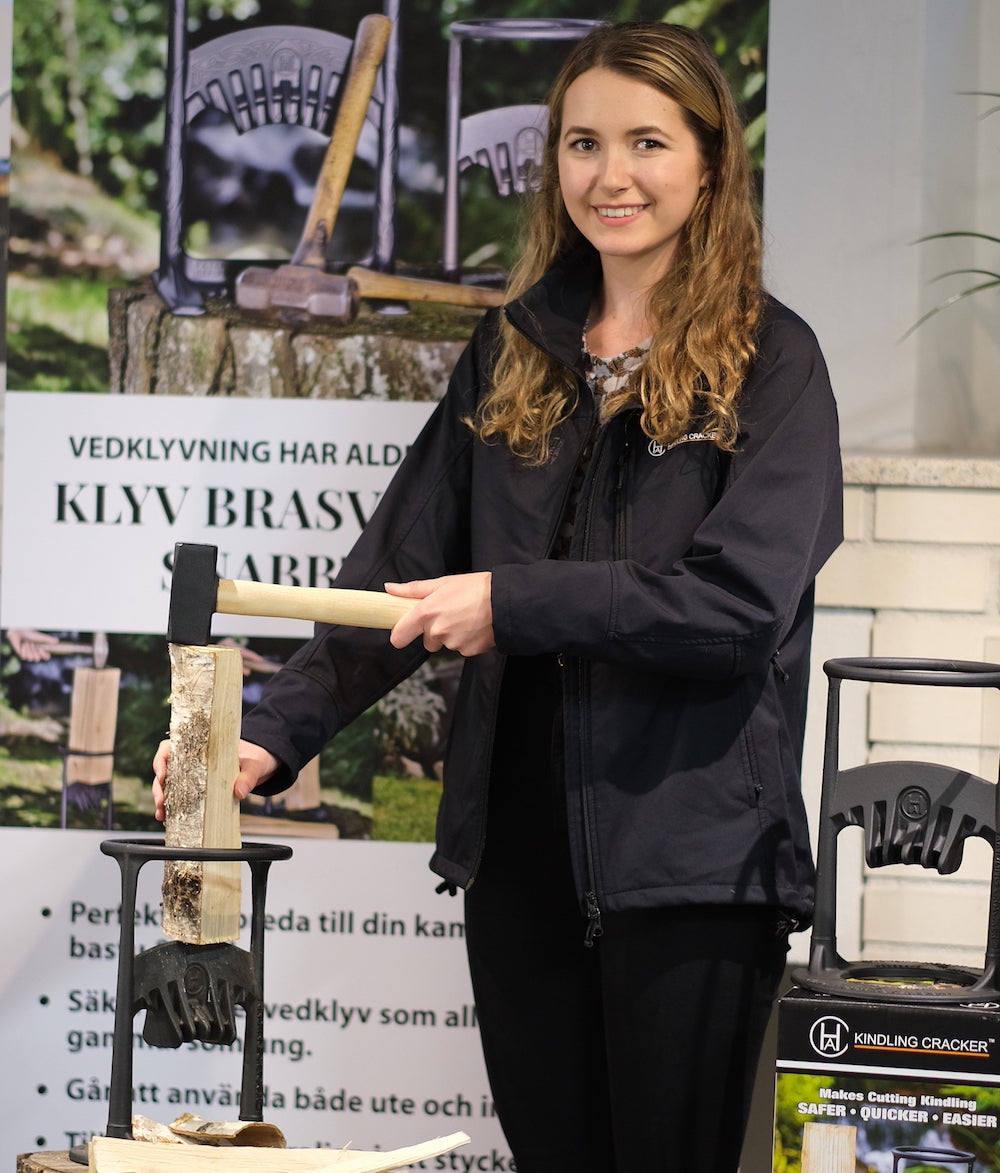 Meet Ayla
The Young Inventor
Ayla Hutchinson was only 13 years old when she invented the Kindling Cracker™. Ayla's mother injured her finger while splitting wood with an axe. Ayla became determined to find a safer alternative.
The main difference is size. The King model is almost twice the size of the Original and allows you to split taller and wider firewood.
If you buy already split firewood and want to make kindling go for the Kindling Cracker Original! If you have medium to large firewood, the Kindling Cracker King will get the job done!
You can split wood with a diameter of up to 16cm with the Kindling Cracker Original. With the King model you can split wood up to 22.5cm. 
Yes! Any variety of wood that you can split with an axe can be safely split with a Kindling Cracker with ease. Oak, birch and ash are no problem at all.
In a word, no. The unique wedge design of the Kindling Cracker means the blade does not need to be razor sharp to work well.
It is easy to sharpen the blade if you want to and some owners decide to do that from time to time. Lay your Kindling Cracker flat and give it a few strokes with a metal file and it's as good as new!
No. Top grade cast iron is used to make the Kindling Cracker. Each one manufactured in a top Australian foundry. The Kindling Cracker will last for generations if cared for.
All Kindling Crackers come with a five year warranty. All of our other products have a one year warranty. 
This is down to personal preference and it isn't essential. The design of both models means fixing to a chopping block is possible.
Lots of owners split wood and make kindling without fixing their Kindling Cracker. There are also many owner who prefer to have their Kindling Cracker mounted on a chopping block.
Shipping
We aim to have orders with customers within 3-5 workdays. You will get delivery details in your confirmation email. We ship from our Swedish warehouse using DHL to all EU countries except Ireland. For our Irish customers, we ship with DPD straight from our warehouse in Dublin. Delivery within Ireland takes 1-3 workdays.
Yes! We offer free shipping on all orders over €99! If your order is less than €99 the shipping cost is €15.00
We use DHL for all orders shipped within the EU.
Note! For Irish orders we use DPD Ireland.
Let us know via email you would like to return your parcel and we'll send you a return label to put on the package. Then just drop it off at your closest DHL service point.
We offer 90 day free returns. ❤️
Our main warehouse is in Uddevalla, close to Gothenburg in Sweden.
Address:
Fandango Logistics
Dalhemsvägen 6
45155 Uddevalla
Sweden
Our Irish warehouse is in Dublin.
Address:
SEKO Logistics Ireland
Unit R North Ring Business Park
D09 F348 Dublin 9
Other
You can contact us through our contact page or write an email to info@fandangofiretools.coom. We will be happy to assist you. 😊